Don't Leave Our Kids In The Cold!
Bring in a new or used coat for all ages of kids from infants to teens, please remember that adult coats fit teens. Lake superior cleaners will clean the coats. Salvation Army will distribute the coats in the Superior and Duluth area for all Twin Ports community. The Salvation Army at 916 Hughitt Ave. Superior, WI will be distributing the coats on November 8th 10 am to 4 pm, November 9th 10 am - 6 pm, and November 10th from 10am to 4pm.
LAST YEAR WE HAD A RECORD YEAR OF 2,036 COATS!
OVER 21,261 COATS SINCE WE STARTED!
So clean out those closets and bring those coats in to Benna Ford or one of several other drop off locations! Let's keep our precious kids warm this season!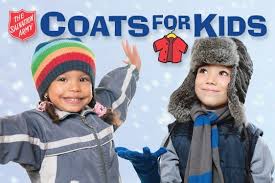 THANK YOU FOR YOUR SUPPORT!