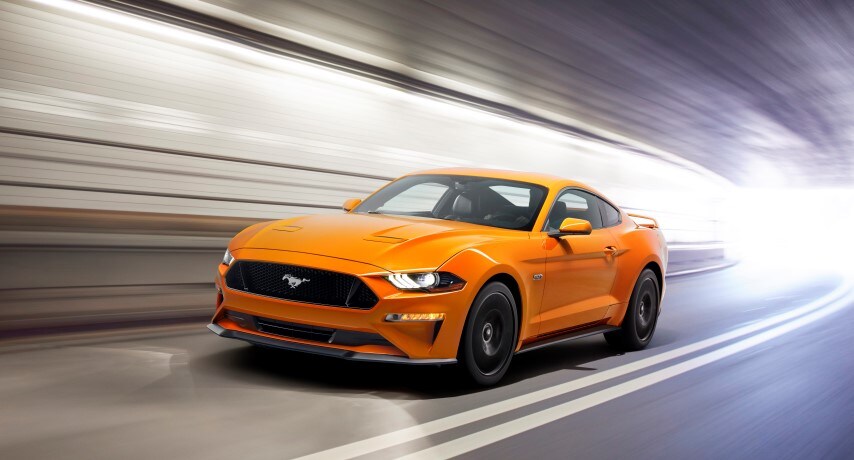 If you were to list the iconic cars of history, the Ford Mustang rank near, if not at the top, and with the latest Mustang that tradition continues and the legend continues to grow.
The great thing about the Mustang is that it could always be so many things to so many people and offer outstanding value along the way.  If you want the beautiful stylig, superb performance AND fuel economy, the EcoBoost Mustang is for you.  With a 310 horsepower and 320 lb/ft of torque the 2.3 liter four cylinder provides lots of "giddy up" for your pony, yet returns and EPA estimated 21 mpg city, 32 mpg, highway.  If you want more performance from your EcoBoost Mustang, then our Parts Department has a wide variety of Ford Performance parts for you. 
There are few things in life better than a V8 Mustang GT, and with the 5.0 Coyote V8, the power and sound are within your reach.  With 460 horsepower and 420 lb/ft of torque on tap the Mustang GT is ready to leave the world in your rear view mirrors. 
SYNC 3 is available in the Mustang with available Android Auto and Apple Car Play to keep you on the cutting edge of technology. Along with other performance enhancing technology, such as LineLock and Quiet Exhaust. 
If you have always wanted a Mustang now is the time!  No matter what you are seeking, a sporty coupe or convertible with legendary styling, or a performance car to rip it up on the drag strip, the road course or explore the North Shore, Northern Minnesota or out to the Upper Peninsula, then the EcoBoost and 5.0 V8 Mustang's are here for you.  Schedule your test drive today and experience the legend for yourself.