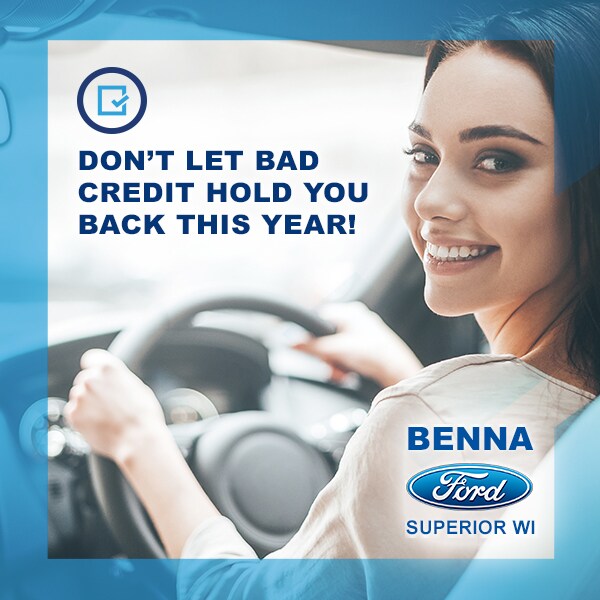 Re-Establish Your Credit at Benna Ford
You work hard to do your part for a better life. Yet, your ability to buy a new or used vehicle has hit a roadblock. Perhaps events in life (divorce, job loss, bankruptcy) have caused your credit to drop. Or, you may not have established any lines of credit in your lives.
When it comes time to buy a new or used automobile, Benna Ford can help you get the vehicle you need by working with our team of lenders to get you approved for that loan. 
At Benna Ford, chances are you can purchase a new or used vehicle from us with special financing designed to rebuild your credit.
Benna Ford knows that bad things happen to good people. With our large inventory let us help you find the vehicle you want, for that second chance. We work with the largest loan financing companies to ensure each person gets the best auto loan, no matter the payment history.
We work with people who have good, fair, bad, or no previous credit history, as well as people who have zero or no money down. We can help with negative situations such as...
Bankruptcies
Repossessions
Currently delinquent
History of writing bad checks over a long period of time.
Contact the Finance Department of Benna Ford to get you started on your new vehicle journey with the credit you deserve! Fill out our online credit application to take the first step towards re-establishing your credit. 
Want to view our inventory first to get a head start on driving a new or used car from Benna Ford? Check out our latest
new vehicles
or our amazing
used vehicle
selection.